New England Daylily Society Meeting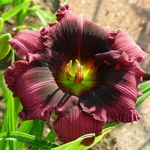 Our next meeting is Saturday, March 14, 2015 at
Tower Hill Botanic Garden in Boylston, MA. Click here for directions.

Come spend a cold winter day meeting old gardening friends, making new ones and playing a few games of Bingo. If you're a winner, you could take home a new daylily to put in your garden in the spring! In the afternoon, our speaker will be Charmaine Rich from Hold'n Heaven Daylilies in Thetford, VT. Charmaine's hybridizing focuses on relief, pleated, cristate sculpted forms and northern hardy patterns. We're sure you'll enjoy her presentation and hope you'll venture out in the cold to join us!
The NEDS executive board meeting starts at 9:30. We have social time from 9:30 - 10:30 then we'll start with Bingo. Bring your lunch and spend the day dreaming of spring.

Last month we held our annual NEDS Members' Photo contest Click on the link to see the results of the January 2015 Photo contest.

Next NEDS event:
April 11, 2015 - Speaker: Curt Hanson of Crintonic Gardens in Ohio and Annual Potluck Luncheon

Please see our calendar for info about future NEDS events.