New England Daylily Society Meeting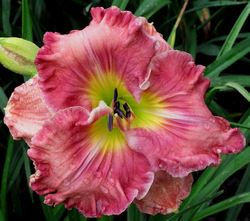 Saturday, April 9 , 2016, at Tower Hill Botanic Garden in Boylston, MA. Click here for directions.
9:30 Board meeting and set-up for hospitality (volunteers needed to help)
9:30 - 10:30 Social time (Food donations from members) Please label any baked goods containing nuts for those who have nut allergies.
10:30 Group discussions about daylily topics - We will break into groups and discuss how people deal with weeds, companion plants (what works well with daylilies), favorite early daylilies and favorite late daylilies. At the end, each group will report and share their information.
12:00 Potluck luncheon. Please bring a dish to share (or pay $10 to our treasurer if you don't bring any food)
1:00 Business Meeting & Speaker - Our speaker will be Charmaine Rich from Hold'n Heaven Daylilies in the Connecticut River Valley in Thetford, VT. Charmaine's hybridizing focuses on relief, pleated, cristate sculpted forms and northern hardy patterns. Charmaine has studied daylilies intensely and we're sure you'll enjoy her presentation! Please see the April newsletter for the list of intros Charmaine will be bringing for our auction.
****************************************************************************
NEDS will be hosting the 2016 AHS Region 4 Convention July 22 - 24, 2016. Click on the daylily photos below to get to the convention website to find the registration form, info about tour gardens and open gardens.

****************************************************************************
Next NEDS events:
April 9, 2016—Daylily discussion, Speaker Charmaine Rich, Hold'n Heaven Daylilies and Annual Pot Luck Luncheon
May 7, 2016 - 10 AM NEDS Dig and Divide Event at Elm Bank, Massachusetts Horticultural Society, 900 Washington St (Rt. 16), Wellesley, MA
May 14, 2016 - NEDS May Sale at Elm Bank, Massachusetts Horticultural Society, 900 Washington St (Rt. 16), Wellesley, MA 8AM - 3PM
June 11-12 - Dig and Divide Event at Paul T's. Details to follow
July 16 - AHS Daylily Exhibition, Tower Hill Botanic Garden, Boylston, MA
July 22-24—AHS Region 4 Regional Convention, Nashua, NH
August 20, 2016 - NEDS Public Plant Sale and Auction - Congregational Church, Wakefield, MA

Please see our calendar for info about future NEDS events.

Click on the link to see the results of the January 2016 Photo contest.