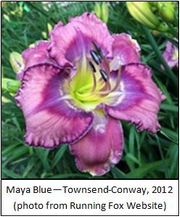 New England Daylily Society Meeting

Saturday, November 11, 2017
Downstairs at Tower Hill Botanic Garden
in Boylston, MA. Click here for directions.

Agenda
9:30 - 10:30 - NEDS Executive Meeting
9:30 - 10:30 - Members Social time
10:30 - Program TBD
12:00 - 1:00 - Potluck Luncheon - bring a dish to share
1:00 - Drawing for door prize plants
1:15 - Guest speaker, Claudia Conway from Running Fox Farm, Canterbury, NH

Claudia and her husband Dave have owned Running Fox Farm in Canterbury, NH, since 2007. Not long after moving in, Claudia began hybridizing focusing on beautiful opening characteristics, wide color range, uniqueness of patterned eyes and various edgings and has introduced over 100 beautiful cultivars that prove to be hardy in our cold New England climate. Claudia's intros include daylilies that will bloom over a long period each summer, early, mid and late bloomers, short, medium and tall daylilies. We hope you'll join us to see some of her intros and maybe acquire a few at the auction at the end of her presentation. Below are a few intros from her website. Click on the Running Fox Farm link above to see more.

Next events:
January 13, 2017 - Annual photo contest, speaker TBD
March 10, 2017 - program TBD
April 14, 2017 - program TBD