NEW ENGLAND DAYLILIY SOCIETY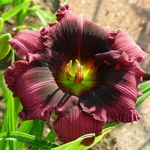 Saturday, November 14, 2015

LOCATION:
Tower Hill Botanic Garden
11 French Drive, Boylston, MA
Click here for directions.

9:00 AM Setup for hospitality (volunteers needed to help)
9:30 AM Board meeting
10:00 AM Social time
10:30 AM Awards for Summer 2015 Exhibition - Dan Pessoni & Planning session for July 2016 AHS Region 4 Summer Regional Convention
NEDS will sponsor the summer regional July 22-24, 2016. There will be many jobs that will need to be done and we need everyone's input and lots of volunteers to run a successful event.
11:30 AM Set–up for Pot luck
12:00 PM Annual "Soup's On" Potluck Luncheon
Please bring a soup or dessert to share
1:00 PM Drawing for door prize plants
1:15 PM Speaker— Dave Mussar - Hillside Daylilies, Guelph, Ontario and the Ontario Daylily Society
Dave has been growing and hybridizing daylilies for 15 years and moved once to find more room to grow! His primary goals are spotted and striped or broken color patterns, toothy edges, patterns and a few other things. We hope you'll join us to see his great presentation.
Next NEDS event:
December 12, 2015 - Annual Business meeting and NEDS Hybridizer presentations


Please see our calendar for info about future NEDS events.

Click on the link to see the results of the January 2015 Photo contest.