New England Daylily Society Meeting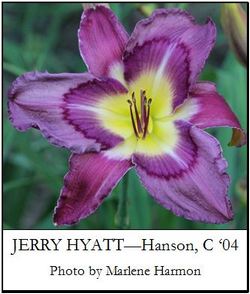 Please join us for our next meeting on Saturday, April 11, 2015, at Tower Hill Botanic Garden in Boylston, MA. Click here for directions.
Our guest speaker will be hybridizer Curt Hanson, owner of Crintonic Gardens in Gates Mills, Ohio, and winner of the 2003 Stout Silver Medal for the daylily PRIMAL SCREAM. He has introduced over 600 daylily cultivars and is known to create beautiful and distinctive daylilies rigorously selected for consistency and vigor under TYPICAL zone 5 garden conditions. He'll share tips for growing and hybridizing daylilies, illustrating his presentation with photo slides.
Please bring a dish to share for our Annual Pot Luck Luncheon. If you cannot bring a dish, please pay $10 at the luncheon. Hope to see you there!
Next NEDS event:
Saturday, May 16, 2015 - 9AM - 3PM - NEDS Spring plant sale at the "Gardener's Fair" at the Massachusetts Horticultural Society's Elm Bank Reservation, 900 Washington Street (Route 16) in Wellesley, MA
Please see our calendar for info about future NEDS events.

In January, we held our annual NEDS Members' Photo contest Click on the link to see the results of the January 2015 Photo contest.