New England Daylily Society Meeting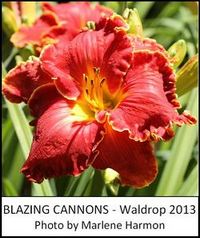 Saturday, March 12, 2016, at Tower Hill Botanic Garden in Boylston, MA. Click here for directions.
Our featured speaker for March will be Bill Waldrop of Kennesaw Mountain Daylily Gardens in Marietta, Georgia. Bill and his wife Diana's lovely garden was a national tour garden for last year's AHS National Convention and his 2013 introduction "Blazing Cannons" won the President's Cup award for being the most outstanding of all clumps observed by attendees at an AHS National Convention. Bill has been growing daylilies since 1992 and has registered 59 introductions to date and received an Award of Merit for "Lydia's Regal Robe" and several Honorable Mentions. We hope you'll join us to hear about his hybridizing efforts to create completely new daylilies. You won't be disappointed!
**********************************************************
NEDS will be hosting the 2016 AHS Region 4 Convention July 22 - 24, 2016. Click below for the convention website to find the registration form, info about tour gardens and open gardens.

**********************************************************
Next NEDS events:
February, 2016—no meeting
March 12, 2016—Daylily Bingo, Regional meeting discussion as needed, and speaker Bill Waldrop of Kennesaw Mountain Daylily Gardens of Marietta, Georgia
April 9, 2016—Speaker Charmaine Rich, Hold'n Heaven Daylilies and Annual Pot Luck Luncheon
May Sale, 2016 —TBD
July 16 - AHS Daylily Exhibition, Tower Hill Botanic Garden, Boylston, MA
July 22-24—AHS Region 4 Regional Convention, Nashua, NH
August Sale 2016—TBD

Click on the link to see the results of the January 2015 Photo contest.